Limited Edition BA Shields
– Limited Edition BA Shields –
The Artist Series
What is the Artist Series?
Over the years, we've seen some incredible artwork end up on custom shields and much of that art was done by firefighter artists!

So this is our way of featuring these artists.

Each month, a new artist will be featured with a custom shield they designed. That shield will only be available for 1 year and then it's gone forever.

Proceeds from these custom shields goes right back to the artist that designed it!
December's Featured Artist
Richard Zuniga
Geek Fire Ink
Meet Rich!
Hi, my name is Richard Zuniga. You may know me as "Zuni". I have been a firefighter for the Los Angeles County Fire Department for 12 years. It's fun to work in the communities that I grew up with.
I love to make all forms of artwork. Hand painted murals can be found at fire stations I've passed through. My proudest project is a fire safety coloring book I fully illustrated for the citizens we serve.
I constantly push myself to learn new art forms and techniques. My newest discipline is tattooing. I hope you enjoy the BA Shield artwork, as it combines my passion for artwork and the job.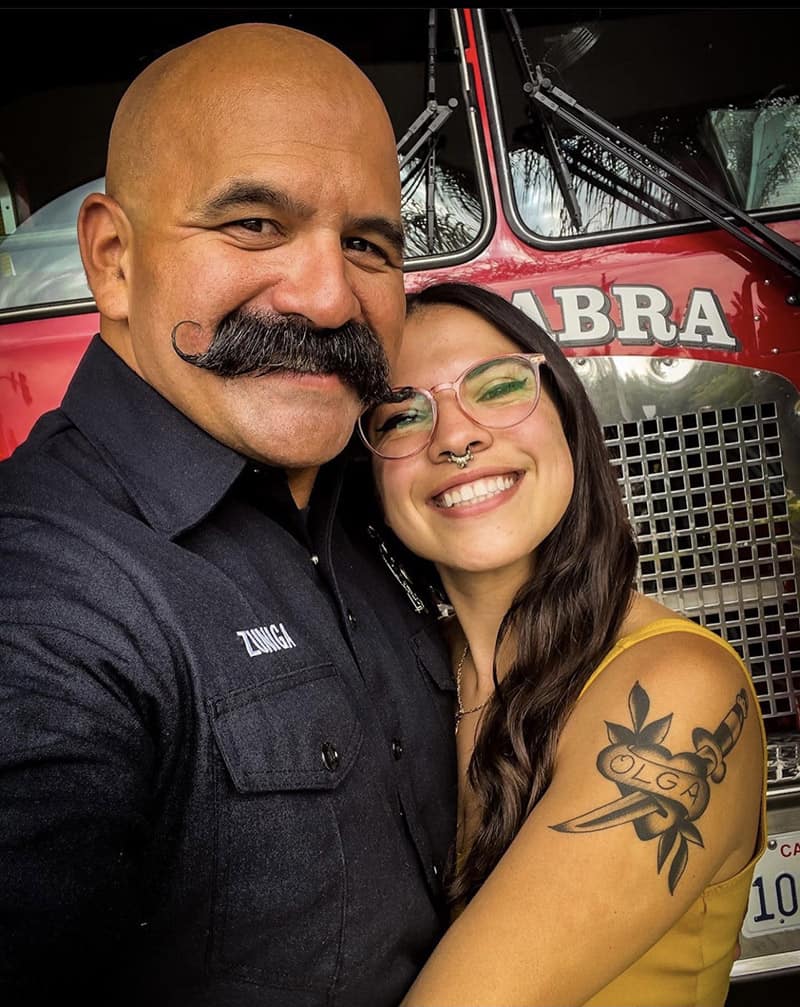 Zuni's Shields
November's Featured Artist
Mike Lucido
Meet Mike
A professional illustrator and muralist with 17 professional years of experience, Mike has been featured in an official Bobs Burger art show and an official Rick and Morty art show in Los Angeles.
Mike is also the owner and operator of eighty8 studios, a commercial photo and video production company, and is one of the primary photographers/videographers for BA Shields.
Mike's Shields
October's Featured Artist
Notorious Fire Co
Notorious Fire Co's Shields
*Note: There are TWO for each mask type.
September's Featured Artist
Justin Cutler
Meet Justin
"Hey! My name is Justin Cutler, and I'm the artist behind the "S-SSS-Smokin!" shield.

I grew up here in Reno Nevada and have been drawing my whole life. I'm not a firefighter, but I am the Graphics Artist at BA Shields!

So if you've purchased a shield in the last year, there's a high chance I did it! The inspiration behind this design was purely because I'm a 90s kid, and The Mask is an all time favorite movie of mine. My art style is fun, comic book themed with vibrant colors. I hope you love it and thanks for the support!"
Justin's Shields
August's Featured Artist
Zack Newton
Meet Zack
He's a man of little words…

"I'm just a fireman on an engine in a major metropolitan department that likes to doodle and make fun of himself"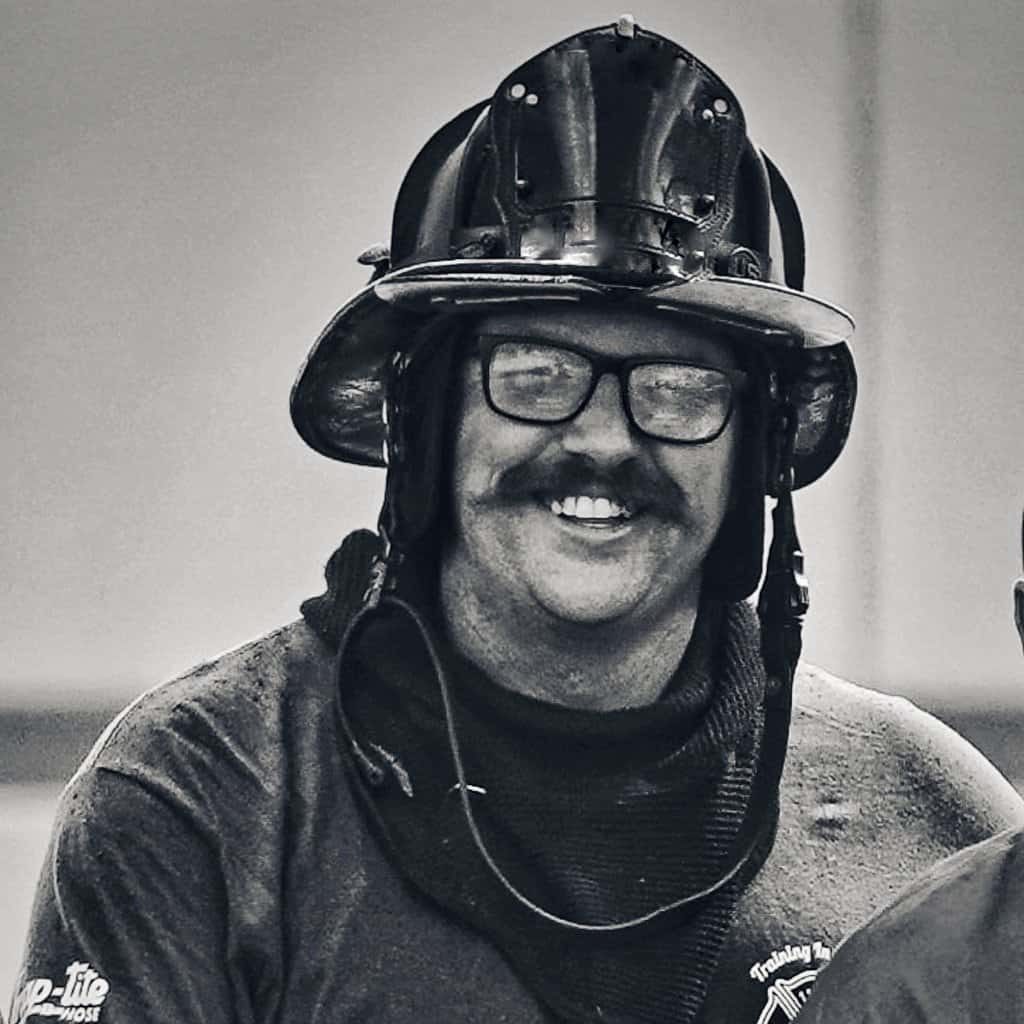 Zack's Shields
July's Featured Artist
Justin Long
Fireline Design
Meet Justin
Born and raised in California, Justin set out and finished college out East in Pennsylvania. From There he started a career in graphic design for Cabela's and eventually ended up as the Creative Director for Dick's Sporting Goods and Field & Stream. With 17 years experience in the design and advertising space, he decided to leave this career and move back home to pursue a career in firefighting.

After two years of grinding it out and finishing an academy at age 40, he landed the dream job. As word got around that he was efficient in design he was asked to create a logo for the station he was assigned. Within a few months the requests started to flow in and the rest is history and Fireline Design was formed. 3 years later and over 500 logos created all around the world, he continues to bring his knowledge and expertise to stations all around the nation.
Fireline Design Shields
June's Featured Artist
Joshua Shannon
Black Helmet Mafia Graphics
Meet Josh
Owner and sole graphic designer with Black Helmet Mafia Graphics, Josh has served in various roles such as a career firefighter, fire alarm dispatcher and a volunteer in the fire service for over 10 years. Josh started BHM GFX in 2017, wanting to use his talents to boost department moral and create artwork for local firehouses. Now, he has turned what once was a hobby into a small business offering his services across the country.
Black Helmet Mafia Graphics Shields
May's Featured Artist
Adam Martinez
En Route Graphics
Meet Adam
"I've been a career firefighter for about 7 years now. I have an amazing wife and 3 year old daughter. I started this designing journey October of 2022 and just grew a huge passion for it. I've always loved all kinds of arts and figured I'd try to combine both my passions. So far this journey has been great and the support from everyone has been amazing!"
En Route Graphics Shields
April's Featured Artist
Benjamin Larance
Devour All Graphics
Meet Benjamin
A texas raised artist, Benjamin graduated from UT Austin with a BFA in fine arts. Post college, he went on to run the production and art department of Firehouse Shirt Club for about 5 and a half years, where he initially started designing for stations, a suggestion from the owner.

What started as a quick sketch slowly snowballed into a full time job designing for first responders. Over the years he's loved being able to bring his customer's pride, tradition and identity to life.
Devour All Shields